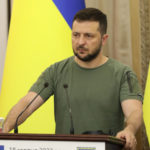 The White House has asked Congress to approve $37.7 billion in additional aid for Ukraine. The request for Ukraine assistance includes $21.7 billion for military, intelligence and other defense support, $14.5 billion in humanitarian aid and to help keep the Ukrainian government functioning, $900 million for health care and support services for Ukrainians living in the U.S. and $626 million for nuclear security support to Ukraine and for modernizing the Strategic Petroleum Reserve. U.S. aid to Ukraine has already included tens of thousands of missiles and rockets for air defense and anti-armor systems, and more than 84 million rounds of ammunition, as well as drones, tanks, trucks, radars, body armor and other gear.
The White House has also requested a further $9.25 billion for COVID-19 response efforts. The coronavirus funding ask is considerably lower than the previous request of $22 billion, which reflects in part the changing nature of the virus and the continued effort to combat it. The request includes $2.5 billion for vaccines and therapeutics, $5 billion to support development of new vaccines, $750 million to support research into long COVID and $1 billion to combat the virus internationally.
Shalanda Young, the head of the White House budget office, wrote in a letter to House Speaker Nancy Pelosi on Tuesday: "Staying ahead of COVID-19. Supporting Ukraine's fight to defend its sovereignty. Helping Americans who have borne the brunt of natural disasters. … I urge the Congress to address them as part of a comprehensive, bipartisan agreement in the weeks ahead."
Congress has until Dec. 16 to agree on a budget or pass an interim measure to avoid a government shutdown.
Editorial credit: Mykola Tys / Shutterstock.com