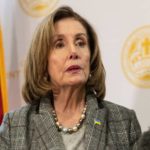 On Tuesday, House Speaker Nancy Pelosi landed in Taipei, showing support for Taiwan despite China's threats of retaliation over the visit. Pelosi's visit marks the first time that a House Speaker has visited Taiwan in 25 years. A Taiwanese official told CNN that Pelosi is expected to stay in Taipei overnight.
Pelosi's visit to Taiwan comes at a low point regarding US-China relations, and despite warnings from China against a stop in Taiwan, which China claims as part of its territory. China warned against the "egregious political impact" of Pelosi's visit, saying that the Chinese military "won't sit by idly" if Beijing believes its "sovereignty and territorial integrity" is being threatened.
The stop prompted not only warnings from China but from the Biden administration, which has briefed the speaker about the risks of visiting the democratic, self-governing island.  During remarks at the United Nations, Secretary of State Antony Blinken said that the decision to visit Taiwan was Pelosi's: "Congress is an independent, coequal branch of government. The decision is entirely the speaker's."
Sources told CNN that President Biden has said publicly that the military did not believe it was a good time for Pelosi to visit Taiwan, but he stopped short of telling her directly not to go, two sources previously told CNN. Administration officials are concerned that Pelosi's trip comes at a particularly tense moment, as Chinese President Xi Jinping is expected to seek an unprecedented third term at the upcoming Chinese Communist Party congress. Chinese party officials are expected to begin laying the groundwork for that conference in the coming weeks, putting pressure on the leadership in Beijing to show strength.
Editorial credit: lev radin / Shutterstock.com