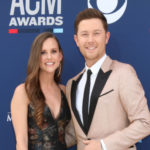 Scotty McCreery and his wife Gabi McCreery are expecting their first child together, revealing the news exclusively with PEOPLE on Tuesday, June 21.
The couple shared that their new addition will be arriving in November. The 28-year-old McCreery also revealed their baby's gender with the outlet: "We got a little man on the way. I was the only boy on both sides of my family, the last McCreery boy out there. Gabi's from two sisters in her family, so I just figured it would be a girl. But we got a surprise of a boy."  On both Gabi and Scotty's Instagram, they shared an exclusive photo published by People of the couple posing with a pair of baby boots and an ultrasound image.
Scotty and Gabi have known each other since Kindergarten, where Gabi says she used to doodle hearts and "Mrs. Gabi McCreery" in her diary. The couple were married in June 2018, and reside in North Carolina.
Scotty McCreery and Wife Gabi Expecting First Child: 'We Can't Wait'
Editorial credit: Kathy Hutchins / Shutterstock.com