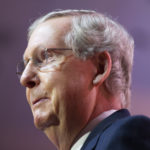 Senate Minority Leader Mitch McConnell announced Tuesday he supports the framework agreement for a gun reform plan announced by a bipartisan group of senators over the weekend. A total of 60 votes would be required to pass the measure with the Senate split 50-50 between Republicans and Democrats.
McConnell said during his weekly press conference that he would likely lend his vote to the deal announced by a group of 10 Republicans and 10 Democrats: "I'm comfortable with the framework and if the legislation ends up reflecting what the framework indicates, I'll be supportive….I think if this framework becomes the actual piece of legislation, it's a step forward, a step forward on a bipartisan basis, and further demonstrates to the American people that we can come together, which we have done from time to time on things like infrastructure and postal reform, to make progress for the country."
A group of 20 senators led by Democratic Sen. Chris Murphy of Connecticut and Republican Sen. John Cornyn of Texas announced Sunday they reached consensus on the key priorities of a deal to reform the nation's gun laws. The agreement would provide incentives for states to pass so-called "red flag" laws, boost mental health resources, provide funding for school safety resources, clarify the definition of a federally licensed firearms dealer and crack down on criminals who illegally straw purchase and traffic guns. It would also expand background checks for firearms buyers under 21, by requiring an investigative period to review juvenile and mental health records.
It does not, however, include a provision supported by President Joe Biden and other Democrats to raise the minimum age for purchasing semi-automatic rifles from 18 to 21 years old that was included in a bill passed by the Democrat-led House last week.
Editorial credit: Christopher Halloran / Shutterstock.com