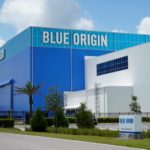 Amazon founder Jeff Bezos and three crewmates soared into space aboard a Blue Origin rocket from Texas, landing safely in the desert about 10 minutes later.  The New Shepard suborbital rocket lifted off about 9:12 a.m. EDT from the company's Corn Ranch launch site 160 miles east of El Paso.
Bezos' brother, Mark Bezos, rode into space with crewmates Wally Funk, an 82-year-old aviation pioneer from Texas, and 18-year-old Oliver Daemen — the youngest and oldest to ever fly in space. Daemen also became the first paying customer on a private company's spacecraft, after a Blue Origin auction June 12.  The four crew members ascended the launch tower and reached the capsule via a walkway about 30 minutes before liftoff, where they were strapped into seats in the capsule for the countdown. The rocket, about five stories tall, accelerated to about 2,200 mph emitting 110,000 pounds of thrust, creating gravity forces of about three times the normal pull on Earth. After reaching space, the crew experience a few minutes of weightlessness before returning to Earth.
Bezos became the second person to reach space aboard his own company's private spacecraft, the Blue Origin capsule. Just nine days earlier, Richard Branson, founder of Virgin Galactic, launched from the public Spaceport America, which is owned by the state of New Mexico. Bezos said he chose July 20 for the launch because it is the anniversary of the Apollo 11 moon landing in 1969. Bezos said at a news conference that his company plans two more flights this year with people on board, and that he hopes Blue Origin can eventually build orbital rockets and facilities on the moon — and even asteroids or Mars.
Editorial credit: JennLShoots / Shutterstock.com